Special Election Results: June 2nd, 2020
Paulus Pauley Jumper was elected to Town Council with 53 votes out of a total of 75.  He will be sworn into office on June 9th at 7pm at the Town Council Meeting at Town Hall.
Rescheduled Special Election: Tuesday, July 14th, 2020
 Sadly, Councilman Donny Connelly has stepped down from his council seat due to health reasons.  A special election will be held on Tuesday, July 14th, 2020 to fill the empty seat. This seat carries a two year term, the remainder of Councilman Connelly's original term.
Running for election for this seat are Tommy Connelly and Glenn Miller.
***Please be aware, voting will be held at only one polling place for this election.  Voting will be held at the Community Center, 7647 Freedom Rd from 7am-7pm on July 14th.***
Voting:
Polls will be open from 7 AM to 7 PM. Polling places in Branchville include Branchville High School, 1349 Dorange Road (Branchville 1) and the Community Center, 7647 Freedom Road (Branchville 2).
You must vote at the correct polling place for your precinct. If you are unsure which precinct you live in, consult your voter registration card or the Orangeburg County voter registration office.
When you vote, you will be asked to show a photo ID: a driver's license, a DMV identification card, a voter registration card with photo, a federal military ID, or a U.S. passport. If you find this requirement impossible, click on the red image at the bottom of this web page for more information.
State Voter Registration Information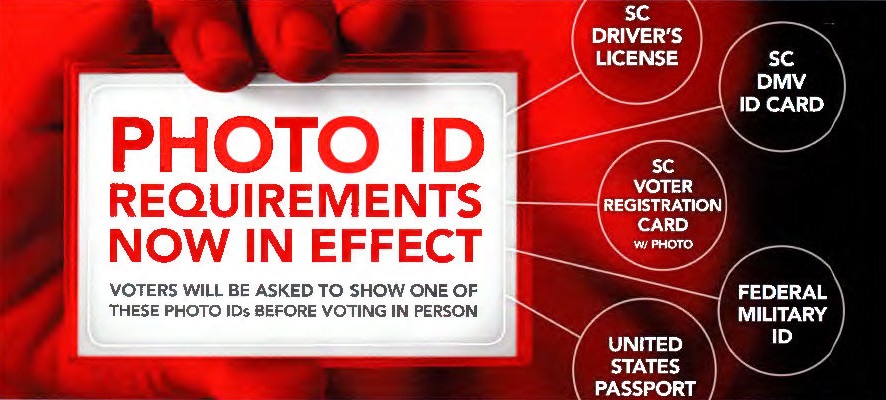 Click on the image above to read more about South Carolina's voter photo identification requirements (PDF).